JUDGING A LATTE BY ITS MUG..!!!
Usually people judge everything or everyone by their first impression. And even websites are not an exception in that. When people notice an attractive and visually appealing website, they want to discover the full website and read the content; and that's why we always design user friendly websites because the use of visuals and imagery attracts the user to view the website. We thoughtfully place all the visuals, images and slide shows which can easily explain the story of your business and makes it easy to engage them with you.
Now a day's hotels are getting most of their reservations from online channels or OTA's. Before people book any hotel online, they definitely check for its reviews or photos online and they would even compare it with any other property also. And main things they check online are property's photos and review from the past customers or guests.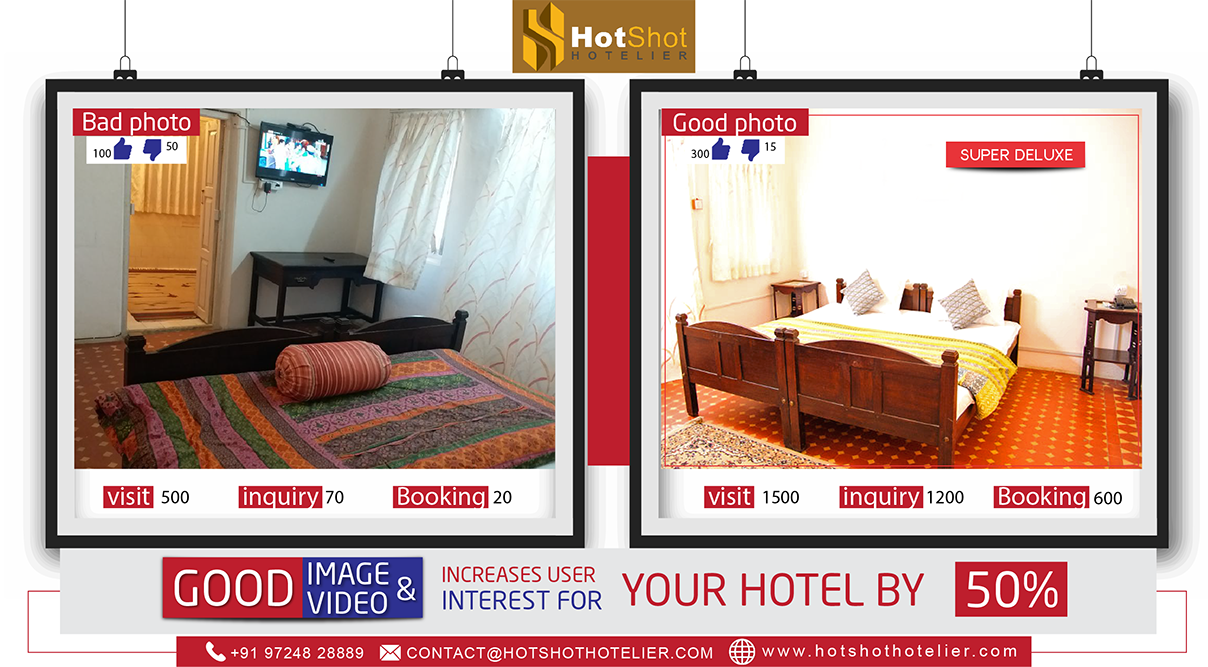 THE ERA OF A PHOTOGRAPHIC CULTURE
As it is said "better to open the eye then to scratch the ear." People would definitely notice the pictures in the website at very first moment because reading the whole content is like scratching the ears for them. And it is very true in the case of hotels also. As the time has changes, the era of web and the taste of travelers for the hotels has also been changed. They would go for clear and beautiful pictures of the website rather than the beautifully written description about the hotel. That's why using such kind of imagery is the confirmation key to get more guests online. People will just look at your attractive website and think" this really seems to be a happening place, my family would definitely have great fun here" so, this is the actual idea behind it. There is a drastic rise in the use of social media like pinterest and Instagram is because they give their users the visual exposure of everything. And it is already proved that the better quality photos you have on your website, the large number of people would engage with and thus increase in your reservation numbers.
GOOGLE  IS ALSO FOND OF PICTURES
Text is important but pictures are more important and the key factor to sell a page. And when we are talking about the search engine ranking, properly optimized imagery is more helpful in getting a higher rank. So, one should not overlook the use of pictures to increase the traffic and engagements on the website as it aids in image search also.
NEWSLETTERS  WITH  PICTURES
E-mail marketing can be done very well with the use of EDMs (Electronic Direct Mail). But one should not forget that it just represents your business agenda, it is not your entire website. But you cannot just send a newsletter or an e-mail with a single picture explaining everything. Always try to keep balance between text and images, because it is what make your newsletter or e-mail readable for the customer. There is a rule of thumb for it stating that give 40% coverage to the pictures and always use relevant one liners or some text with each and every picture.
WE LOVE TO CAPTURE THE PICTURES FOR OUR CLIENT'S WEBSITES..!
If you are not having any good quality pictures of your hotel, we will be happy to land you a hand and capture the quality pictures for your website. At Hotshot Hotelier ( social media management company ), we don't only design the website; we make it functional from every aspect with our expert eyes of necessary details. We offer social media management for hotels and provide hospitality and revenue management services to them.